Since the dawn of time bigger, plumper, juicy red lips have been a desirable trait. The lips illustrating femininity, fertility and sensuality. Women desire to have perfect plump lips, whilst men desire to be the lucky guy on those lips! So why are bigger, plumber, red lips desired? Are there different shades of the lips that are more desirable?
What are the three common mutuality's of Kim kardashian, Ashley Graham and Priyanka Chopra? Besides the fact that they all embrace their blessed looks, but they all share the besotted perfect potted lips. There's no shocker that all of these commonalities are linked, scientist have found out that lips are really the key to your body's health. Red full lips are a sign of a healthy blood circulation throughout the body; the radiance furthermore shows that the inviduals healthy and takes care of themselves. Lastly, and probably least important but still a fact- the colour red is an alluring and even has hold a mans attention for approximately 7.5 seconds (IMAGE, 2018). At the end of the day science seems to rule over everything, and when it comes down to it we all are attracted to big, plumped and glowing red lips because they are sign of perfect glowing health ~ and that's what we all desire!
Still we can all say hands down lips of all shapes and sizes are beautiful, and what's even more beautiful is inner confidence and self love; and if that means plumping, reshaping or enhancing your lips then go on. Just as lipstick brightens the face likewise can a little plumping. So, tried and tested by yours truly I have compiled a list of the best lip plumpers that won't break the bank and a lot less commitment then injections.
Lip plumpers ~ The plumbing effect is caused by a mild to medium irritant in the gloss, this irritant is the result of either capsicum oil, cinnamon, menthol, or caffeine with a small part of niacin – a vitamin B extract that has a vasodilation effect. The vasodilatation effect is the process of which the blood cells walls relax and expand. Meaning, that there is there is an increased blood flow to the lips, thus making them plumper and because there's more pressure they become redder – so in seconds reaching the desired effect.
I. Soap & glory sexy mother pucker pillow plump xxl
This is one mother plucker to trust! It comes in clear, and neutral tones. It will for sure bring the heat to those puckers, leaving behind plump luscious pillows. If you can handle the heat and want a true pouty pout then soap and glory sexy mother pucker pillow plump xxl is for you!
Shop ~ https://www.mecca.com.au/soap-glory/sexy-mother-pucker-xl/V-008913.html.
II. Glamglow plumprageous matte lip treatment
This one is a guaranteed fast acting and soothing to those puckers. Glamglow has crated this lip plumber to enhance ones natural lips whilst treating them with maximum hydration and nourishment and giving the lips a natural matte shine to them. So if you're looking for a lip primer to plump your lips ready to be paired with a killer lipstick then let me introduce you to the Glamglow plumprageous matte lip treatment!
Shop ~ https://www.mecca.com.au/glamglow/plumprageous-matte-lip-treatment/V-023733.html.
III. Too face – lip injection.
Calling all that want a glossy, plump, pillowy lips! Since it's creation in 1997 lip injection has been delivering, and living up to expectations of a perfect, glossy, youthful pout for over 2 decades. This is a trusted beauty staple, it gives you the perfect finishing touches to a natural going to school look or a priming plump gloss to be match with another lip gloss or lipstick for a going out look. Overall it is the perfect cherry on top gloss/ plump for anyone!
Shop~https://www.mecca.com.au/too-faced/lip-injection-extreme/V-015460.html
IV. Duwop original lip venom
This little bottle packs a kick, punch and knock out – with its powerful and potent ingredients such as cinnamon, ginger, and wintergreen that will have your lips plumped to the sky with the amount of increased blood circulation. If you're a dare devil and want total plump kissable lips then you have to try the OG of lip plumpers: DuWop lip venom.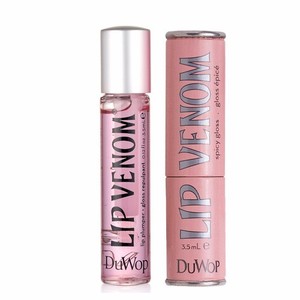 shop ~ http://duwopcosmetics.com/lip-venom-lip-plumper-lip-gloss.aspx.
So there it is, some of my favourite plumbers to plump that pout !
Come check out Hello Sugar! next week when we look into the many beauty hacks and staples of the ancient Egyptian Queens and pharaohs.